Premiere: Bovttášvárri – Láhppon monni
BOVTTÁŠVÁRRI – LÁHPPON MONNI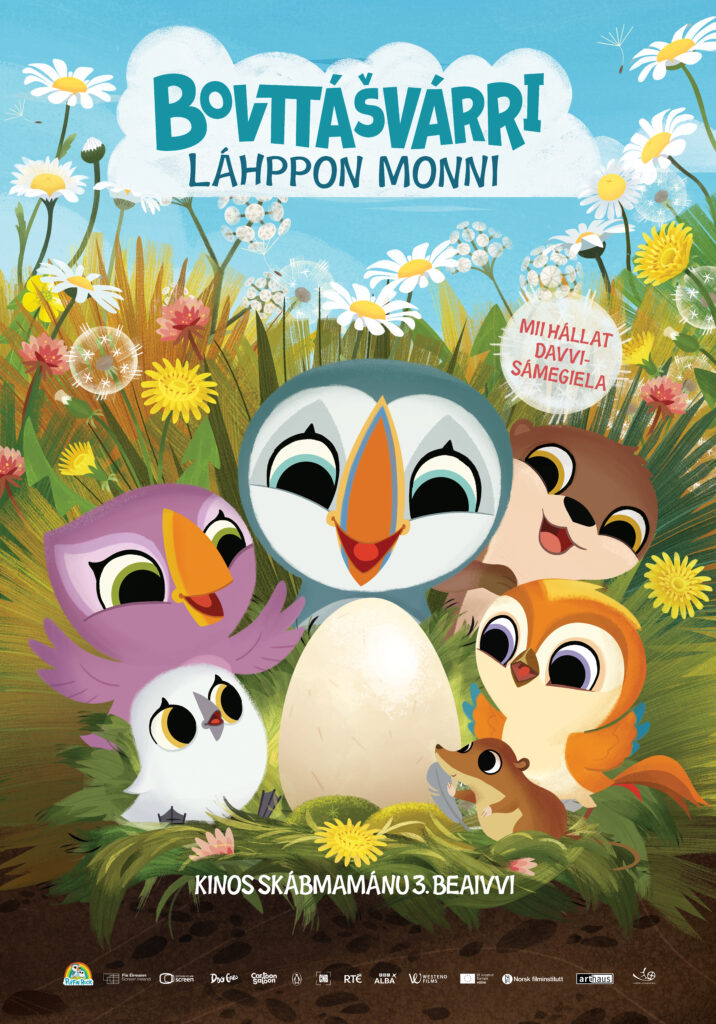 The film Bovttášvárri – Láhppon monni is premiering in cinemas in Norway November 3.rd. The film "Puffin Rock – and the New Friends" has been translated into Northern Sámi by Duottar Studio, offering audiences in Norway the opportunity to see both the movie in Northern Sámi and Norwegian on the big screen this November.
Check your local cinema for showtimes of Bovttášvárri – Láhppon monni in the Sámi language. You can inquire the cinema about the possibility of arranging screenings. The Sámi version is available in all cinemas in Norway.
BOVTTÁŠVÁRRI – LÁHPPON MONNI
Northern Sámi production by Duottar Studio
English title: PUFFIN ROCK – AND THE NEW FRIENDS
Norwegian title: LUNDEFJELL – EGGET SOM FORSVANT
Family | Northern Sámi | 1h 20 min
Follow the disappearance of the final Little Egg of the season in strange circumstances, leading Oona and her friends to embark on a race against time to try to save it before a big storm hits Puffin Rock and puts the island in danger.
THE SÁMI VOICES
Ena: Leah Nichole Sikku Valio
Isabell: Mia Andréa Pulk
Muitaleaddji, The Narrator's Voice: Thor Werner Thrane
Felix: Áikin Piera Eira-Pettersen
Marvin: John Niillas Eira Persson
Mosse: Lemet Jonne Sarre
Baba: Leon Valio
Májjá: Ada Sofie Mienna Halvorsen
Silki ja Lala: Risten Mari Larsson Sara
Vilma: Ayla Gáren Audhild P. Nutti
Bovttášeadni, Mother: Biret Margrethe Oskal
Bovttášáhčči, Father: Egil Keskitalo
Bjarne: Heaika Hætta
Bovttášmonneeadni, The Egg Mother: Elle Mári Dunfjell Oskal
Bovttášmonneáhčči, The Egg Father: Issát Áilu Gaup Vars
Translated by: Berit Margrethe Oskal
Language advisers: Elle Mari Dunfjell Oskal
Director and producer: Morten Hyld Pettersen, Duottar Studio
The film Bovttášvárri – Láhppon monni is by Cartoon Saloon animation. The Puffin Rock universe is well-known from NRK and Netflix. Cartoon Saloon animation has also made Wolfwalkers (previously dubbed to Gumpehámis by Duottar Studio).
The dubbing is a collaboration with Duottar Studio and Arthaus, and financing is by the International Sami Film Institute and Norwegian Film Institute.
We want to thank everyone who has contributed to this production. We are excited to share the film with all the children and adults in Sápmi.