ÁRRAN 360° will visit Tromsø during TIFF 2023

It's fantastic to be able to bring ÁRRAN 360° home to Sápmi
It is a great honor to announce that ÁRRAN 360° is returning home to Sápmi and will have its Norwegian and Sápmi premiere during the Tromsø International Film Festival in January.
ÁRRAN 360° was an official part of the extended program of The Sámi Pavilion during the 59th International Venice Biennale. The project was also screened as part of the biennial's film festival program.
— We are incredibly pleased to have the Norwegian premiere of ÁRRAN 360° for TIFF. This is a spectacular project that combines Sámi storytelling with high tech. It will be an exciting mix of traditions where it all takes place in a lávvu, but with new technology and modern narrative formats. We are impressed with what the International Sámi Film Institute has achieved together with the filmmakers, says Festival and Program Director for Tromsø International Film Festival Lisa Hoen.
Director of the International Sámi Film Institute Anne Lajla Utsi is looking forward to showing the project in Tromsø:
— It's fantastic to be able to bring ÁRRAN 360° home to Sápmi with screenings at TIFF. We look forward to letting the audience here at home get the magical experience of the ÁRRAN-lávvu and the powerful 360 films. To be able to present the lávvu in a new form in a modern era, with innovative Sámi films, which embrace the audience, is very exciting.
ÁRRAN 360° is a hybrid between Indigenous stories and innovative technology. It is the very first project to present six original 360 films by six leading Sámi filmmakers and artists from Sápmi. During TIFF 2023, ÁRRAN 360° will stand outside Hålogaland Theatre, in the world's largest purpose-built lávvu equipped with a 28 meter long canvas.
— Artistically, the films are very different. There is experimentation with new ways of telling stories in a new format. The audience can look forward to a unique film experience with ÁRRAN 360° in January, says Hoen.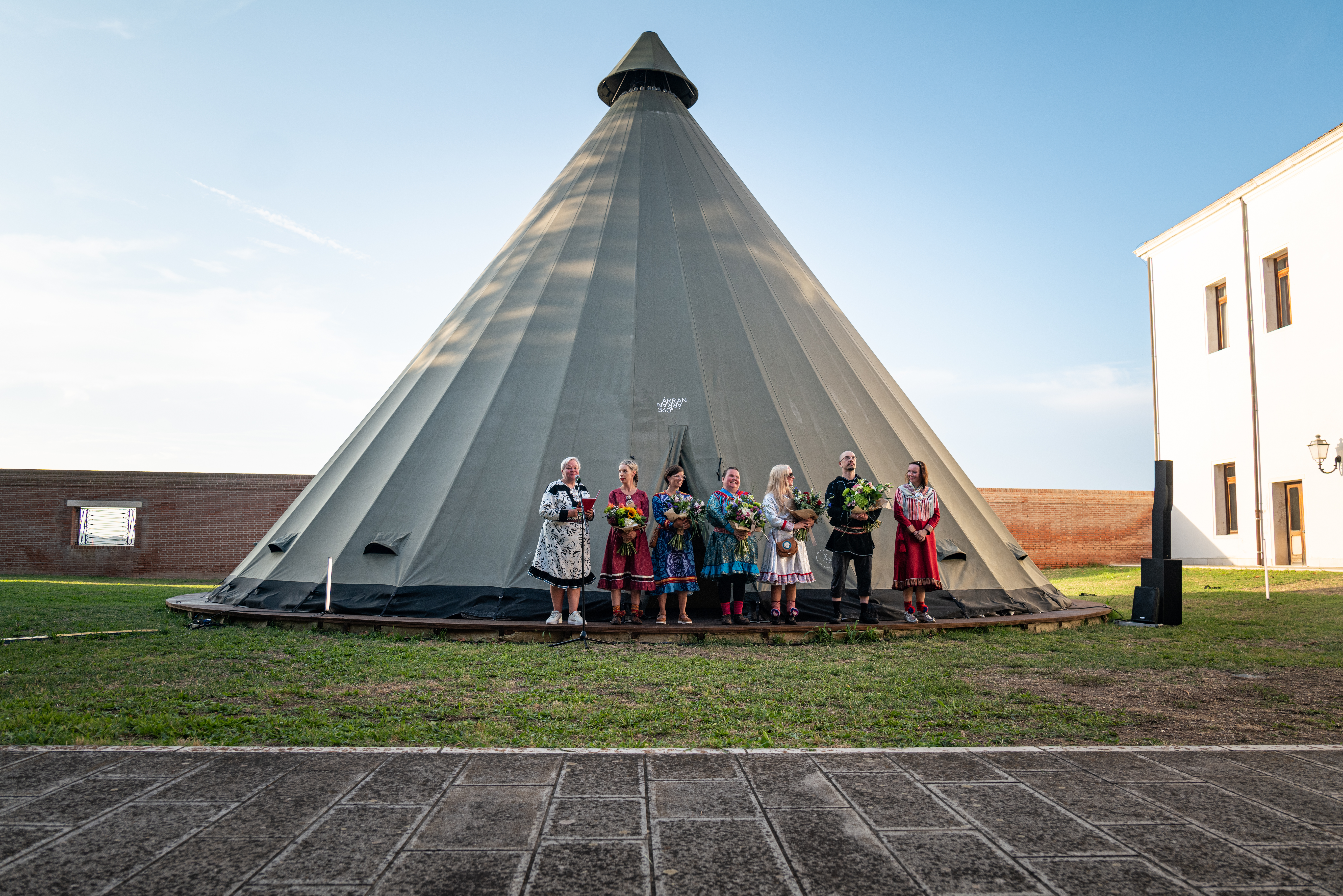 The project is presented by Tromsø International Film Festival and the International Sámi Film Institute with financial support from Troms and Finnmark County Council.
— When I visited the International Sámi Film Institute in Kautokeino in September, I was completely fascinated by their work. When presented with ÁRRAN 360, I immediately thought that more people should get to experience this. Sámi film presented with AR and VR in a lávvu with a canvas around the audience – fantastic, says County Council Chair of Troms and Finnmark, Kristina Torbergsen.
— ÁRRAN 360 is a very good project. We've heard good words about it from when it was in Venice earlier this year. Therefore, the county council has proposed in next year's budget that we should allocate NOK 200,000 for this. Clearly here in the north we should also get to experience this spectacular film format that is about us who live here, says County Councilor for Economy and Culture Ronald Wærnes.