Sapmifilm.com relaunched with new content
Enter a unique world of Sami and Indigenous Films
We have relaunched our streaming platform  www.sapmifilm.com, with in a new format, with new content.

Happy that we have finally got the Sami classics available on our streaming service
Now you can stream the classic sámi feature films Pathfinder, Kautokeino Rebellion and Saami Blood. The new platform allows you to rent movies, as well as to stream the more than 100 Sámi and Indigenous films that are included in the subscription. Only 59 NOK per month.
Sápmifilm is the only streaming platform that includes only Indigenous films. Indigenous stories should be available for the world to hear, by our own storytellers.
The platform is available in Norway, Sweden, Finland, Greenland and Canada
Sápmifilm was launched for the first time in 2018. Then it was open to the public in Norway, Sweden and Finland. Now the page is also opened for Greenland and Canada. ISFI have collaborated with Arctic indigenous filmmakers for a long time, says ISFI director Anne Lajla Utsi, who is currently at the imagineNATIVE film festival in Canada in connection with the launch.
Available for private end consumers and schools and institutions
The site is primarily for those who want to see Sami and indigenous films, but the site is also available to schools and other institutions for use in teaching and for entertainment. The platform gives private individuals, schools and other institutions the opportunity to stream exciting quality films from indigenous areas. The platform also provides opportunities to learn more about Sami culture, language and history. Sápmifilm contains short films, documentaries and feature films.
More films will be launched during the winter
Next year will be an exciting year in the film industry in Sápmi. There are many large ongoing productions. We aim to offer new Sami films via our streaming service.
It is the International Sami Film Institute (ISFI), in collaboration with Norgesfilm AS, that has developed the streaming service. ISFI is responsible for the site and its content, and Norgesfilm AS is responsible for the technical aspects of the film portal.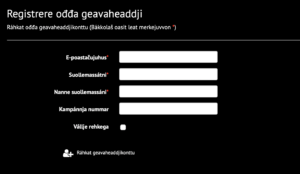 How to registrate?
1) Go to www.sapmifilm.com/Account/Login
2) Click "New user? Click here to register"
3) Register a new account
a) If you are a public institution and want to pay through an invoice, click the "Use Invoice" checkbox
4) Go to your email and accept through the link you have received
5) Registrere you creditcard
6) Enjoy the films!
If you have any questions, please contact: sapmifilm@isfi.no