Sámi Club-lávdi jođus Veneziai
Álgui

>

Sámi Club-lávdi jođ...
Sámi Club-lávdi jođus Veneziai – Ávvudit ÁRRAN 360° filbmalávu rahpama

Ovttas Dáiddadállu – Artist Collective Guovdageaidnu, Internašunála Sámi Filbmainstituhtta ávvuda ÁRRAN 360° vuosttaščájáhusa, ja bovdejit áigeguovdilis sámi dáiddáriid Veneziai.

ÁRRAN 360° allaárvosaš rahpandoalut leat borgemánu 26. beaivvi, čáppa sullos San Servolos, Venezias. Doalut álget dii. 18.00 almmolaš rahpamin, gos ÁRRAN 360° filmmaid čájehuvvojit vuosttaš geardde, dasa lassin min VR- ja AR-čájahus rahppo.
Rahpandoaluin beasat maid oaidnit oasáža Elle Sofe Sara dánsunčájálmasas Vástádus Eana – The Answer is Land. Eahket loahpahuvvo sámi club-eahkedin TØNDRAin ja Arcticle 3ain.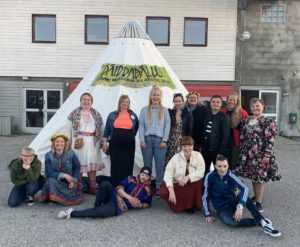 Dáiddadállui lea stuora gudnin buvttadit ÁRRAN 360° rahpandoaluid. Dat lea mávssolaš vejolašvuohta čájehit sámi dáiddáriid buori barggu internationála dáidda- ja filbmalávdái. Mii leat rámis ovttasbargguin ISFIain dáid doaluid olis, go mis leat maid dáiddárguoimmit oassin ÁRRAN 360° prošeavttas, dadjá Dine A. Fenger Lynge, beaivválaš jođiheaddji Dáiddadálus.
Vástádus eana – The Answer is Land
Vástádus eana – The answer is land lea dánsun- ja juoigančájálmas man koreográfa Elle Sofe Sara lea dahkan.
Čájálmasa váldosáhka lea searvevuohta ja fuolkevuohta olbmuid gaskkas ja olbmuid ja eatnama gaskkas. Koreografiija jurdda riegádii miellačájehemiid, sámi vuoiŋŋalaš praksisaid ja formašuvdnadánsuma vuođul. Čájálmasa vuođđun leat máŋggajitnii juoigamat. Daid lea komponeren Frode Fjellheim.

TØNDRA
TØNDRA lea árktalaš elektronika duo mii rahkada musihka inspirerejuvvon sámi ja árktalaš guovlluin. Soai ovttastahttiba jienaid visuála govvadáidagiin. Duo identitehta ii leat almmolaš, go háliideaba ahte sudno musihkka galgá leat guovddážis.
Article 3
Álgoálbmogiin lea vuoigatvuohta iešmearrideapmái dánssoláhttis. Dán vuoigatvuođa vuođul sii mearridit friddja iežaset lihkkastagaid, juoigangieđa leahtu, čikŋasvuođa dási, sydis guoimmi ja guvssi sisdoalu.
Article 3 leat Christina Hætta, Elle Márjá Eira, Sunna Nousuniemi, Anne Henriette Nilut, Alice Marie Jektevik ja Petra Laiti. Sii čuojahit sámi- ja álgoálbmot musihkka olles máilmmis.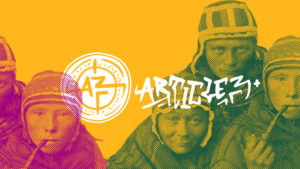 Dáiddadállu lea dáiddársearvevuohta masa gullet badjel 20 iešguđet dáiddára olles Sámis, ja sii ovddastit ollu iešguđetlágan dáiddasurggiid – nu go visuála dáidaga, musihka, luođi, filmma, girječállima, dánsuma ja teáhtera.
Dáiddár/čálli Máret Ánne Sara ja koreográfa/filbmadahkki Elle Sofe Sara vuođđudeigga Dáiddadálu Guovdageainnus 2014:s. Searvevuođa ulbmil lea ásahit nana, sámi dáiddabirrasa alla kvalitehtain. Searvevuođa bokte ožžot dáiddárat veahki lihkostuvvat, sihke dáiddafágalaččat ja ekonomalaččat.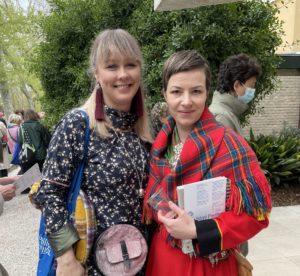 Dáiddadállu lei diehttelas ovttasbargoguoibmi ja buvttadeaddjin ÁRRAN 360° rahpandoaluide. Sin stuora fierpmádagain dihtet mii dáhpáhuvvá sámi dáiddamáilmmis, ja fuomášuhttet ođđa ja gelddolaš jienaid sámis, dadjá ÁRRAN 360° prošeaktajođiheaddji Maria Utsi.
Rahpandoalut leat nuvttá, borgemánu 26. beaivvi, dii. 18.00, Venezias. Dieđit dákko!
ÁRRAN 360° čájáhusat ja doalut leat nuvttá ja rabas buohakde.
Filbmalávvu ja čájáhusat leat rabas 12.00 – 20.00 juohke beaivvi, gaskal borgemánu 26. b. Ja čakčamánu 10. b.