Seven new Sami films receive Production Grants
ISFI production grants 2,3 million NOK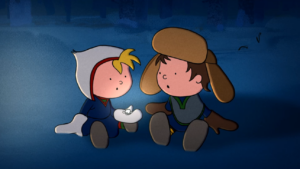 One animation, one documentary, one feature film, and four short films received production grants:
SAAJVEN JÏH ELMIEN GASKE
Animation / Production company: Bautafilm AB / Director: Oskar Östergren Njajta / Granted: 500.000 NOK
Siblings Bräjta and Aanta must save humanity's knowledge by reclaiming the sacred wooden figure Oksaahka that the crow Voerhtje and the evil giant Staaloe stole from the parallel world Saajve.
GOSA JÁVKKAI LUOSSA
Documentary / Production company: Govas Film AS / Director: Harry Johansen / Granted: 200.000 NOK
In 2021, the authorities in Norway and Finland stopped all salmon fishing in the Tana River and fjord. The reason was overfishing. What consequences does this have for the people fishing for salmon for thousands of years? And is it overfished? The temperature in the Barents Sea has increased by 1.5 degrees in the last twenty years. In addition, other indigenous salmon fishermen have also experienced the same.
ÁRRU
Feature film / Production company: Elle Sofe dansekompaniet and Stær production/ Director: Elle Sofe Sara / Granted: 500.000 NOK
A Sami joik musical about Maia a reindeer herder who joins the fight against the destruction of the reindeer grazing area. As the fight escalates, Maia is confronted with the reality that their leader is an abuser. She faces a difficult choice: stay quiet and save her family heritage, or speak up and stop the abuse in the community?
IN MY HAND
Short film / Production company: Paranord Film / Directors: Liselotte Wajstedt ja Marja Helander / Granted: 300.000 NOK
A film based on Niillas Somby's story. He was one of the most prominent opponents who protested during the Alta conflict in the 1970s and early 1980s. Niilla's participation in the conflict has a fatal outcome and will follow him for the rest of his life. The film wants to examine questions that are very relevant in today's world. What sacrifices are you willing to make for your own people, and how does Niillas think the future looks for the Sami people?
GUSTO GUSTO
Short film / Production company: Maigon Film AS / Director: Marja Bål Nango / Granted:  200.000 NOK
Ánte's journey to self-acceptance as a closeted gay Sámi man in his fifties is put to the test in the city.
ÁRRAN 360
Short film / Production company: Forest People AS / Director: Ánna-Katri Helander / Granted: 300.000 NOK
It's Saturday and the friends Sara, Eila, Johan, Mahtte and Issat are going to a party. Everyone in town is coming to Eilas basement, before they continue the party at Maras pub.
But how the heck are they gonna get there? Mahtte is already so drunk he is puking, and their only vehicle is an ATV. The town sheriff has already caught them once before riding with a packed ATV.
DUHÁSTEADDJIT
Short film / Production company: Rein Film Finnmark AS / Director: Silja Somby / Granted: 300.000 NOK
A boat is preparing black logs into a párral– a construction of an iron fork like shape. Bigga builds up the párral into the front of the boat and sets it on fire. As the fire grows, Bigga jumps into the boat and pushes it into the stream. During this float we explore this dark history of Deatnu with flashback images and a voice-over recounting the story. At the end the boat will float into Deatnu and meet other boats with fires in front. Together they become a fleet of modern duhásteaddjit – proclaiming 150 years of resilience.
More about Production grants
The production grant aims to secure the best possible quality of the film project. The grant is given to stimulate films in the sami language and strengthen sami filmmakers and producers.
Application deadlines for production grants are February 1st, May 1st, September 1st and December 1st.